About
Allen Dyson, owner of River Wood Outdoors, has been "working" outdoors for years.
It began with excursions through the woods, digging in the dirt, and coming home muddied up and ready for more.
At the age of six, Allen began experimenting with landscaping, adopting seedlings found under trees and planting them in pots where some lived and some withered away.
When Allen was 15, he got his first opportunity with a local landscaper. Since then, he's been going non-stop, bringing folks outside with new outdoor living spaces, fire pits, and beautiful gardens.
You can still find him, his friends, and his family hanging out by the fire pit, relaxing and making memories.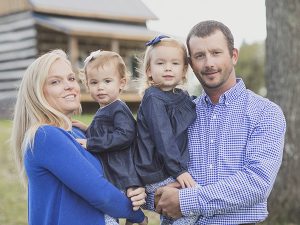 In business since 2003 serving the Triad area of NC, River Wood Outdoors has developed a reputation of high quality workmanship and service. Allen lives in Mocksville, NC with his wife Casey and their two girls.
River Wood Outdoors is devoted to your love for the outdoors, whether new or lifelong, creating tranquil spaces for relaxing, laughing, and enjoying with those around you. Whether you're looking for a home extension to host dinner parties and birthdays, or a spot to grill out beside the fire, or maybe an upgrade to your home's exterior,
we take the worry and stress out of hardscaping and landscaping so you can

get back to your family

.
Take a look at some of our past projects for inspiration. Or for a quote, give us a call. We would love to talk to you about the possibilities of your new outdoor space.
River Wood Outdoors Facts and Licenses:
Work with

residential

and

commercial

properties
Fully-insured for liability for your protection
Fully bonded
NC Licensed Landscape Contractor
Interlocking Concrete Pavement Institute (ICPI) Certified Installer
NC Certified Plant Professional
NC Licensed Plant Professional
NC Registered Landscape Contractor